What do our ladies enjoy when it comes to keeping their skin beautifully soft? Our ladies usually pop up to their favourite spa. They love to get completely enveloped in gorgeous pampering stuff then wrapped in a cellophane and left to bake. Take some time for yourself is their motto. Our executive ladies always enjoy a menu of bodily treats such as reflexology and hot stone therapy.
There is nothing nicer than lying down with delicately scented warm oil being rubbed into your back. That scent becomes even stronger when the heat of warm pebbles is placed on your backs. It might be weighing you down but definitely not in an unpleasant way. Even the thought of it can perk anyone up.
Sensual experience
Of course our expensive escorts are a bit of a dab hand at the old massage business, as any of our clients will testify. Take some time for yourself. It's just lovely to lie back and have it done by another professional though. Our girls often take time out to get massages but they've been so busy of late that the opportunity just hasn't presented itself.
That's where you guys can come in. It's no surprise to here that our ladies touch is soft and sensual but they can also give a good firm massage when needed. Hiring an escort for a massage is a great way to break the ice and who knows where it might go from there. London escorts also love to receive, so if you'r happy to indulge in their services, how about returning the favour. These girls will never turn down a relaxing massage from a soft handed gentleman. It's one of the highlights of the job!
One of our most popular escorts for massage bookings: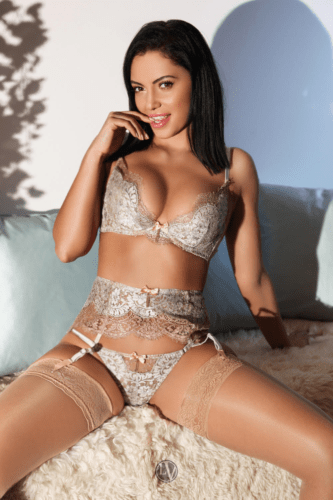 Meet Andrea. Centrally based and one of most popular busty escorts, you really won't want to miss out on a date with Andrea. She is the perfect choice for a sensual experience and more personal nights in. This beautiful young brunette is slim and sexy with naturally striking looks and a sweet nature. An ideal companion for a fabulous and fully romantic experience. In addition to this, Andrea is also lots of fun and with her outgoing and happy disposition she will in no doubt put a smile on your face for days to come.
You can always double the pleasure with two stunning duo escorts. They are perfect for the more adventurous client and guarantee to turn up the heat to a whole other level.