It is a well-known fact that keeping your long term relationship or marriage exciting can be tricky. With full time jobs and commitments such a children, that all important sexual side of your relationship can slip. But don't let it disappear through the cracks of tiredness and boredom. We highly recommend you treat yourself to a night of passion instead. Here in London the busy, bustling city life can get both of you feeling blue and mundane. However, the best kept secret is that London is actually the best place to kick your sex life back into action.
We know every couple has their secret erotic fantasies. Whether that be to watch your partner get down and dirty with another girl or to include yourself in a thrilling and exciting threesome. With one of our discreet escorts this doesn't just have to be a fantasy. Let your man see you getting hot and sweaty with another beautiful woman and enjoy. The thrill of our experienced and sweltering hot girls could be just what you've been missing.
A night of passion you won't regret
With a wide range of escorts for couples around London you can enjoy your fantasies to the max. Treat yourself to a night of passion with the best escorts around. Their aim is to make the whole experience as enjoyable as possible for all involved. Feel 100% safe in the knowledge that you have arranged this special event exactly as you desire. Down to the very smallest detail.
Our receptionist will guarantee your satisfaction by finding the right lady for your needs. They are also here to answers any questions or queries you may have about your special night. So forget the dull nights in and treat yourself to a night of passion and rediscovery with our gorgeous and professional companions.
Meet the best couples escorts for a night of passion
Take time out and treat yourself to a night of passion with top couples escort Jemima. She is the perfect choice if you like to be pampered and offers a sensational service. With a whole lot of additional extras thrown into the mix you won't be disappointed. For example, she is not only favoured by just our gentlemen clients, Jemima is also a firm favourite for ladies too. She will fulfil fetish requests and she's a fantastic party girl escort too. Jemima really is a dream come true and you can guarantee that your every wish is her command.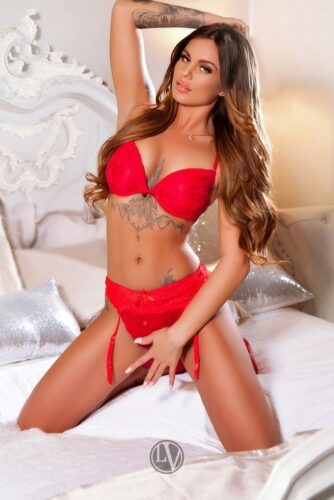 Joanna is one of our most sort after companions and has an extremely easy going way about her. However, don't let that fool you into thinking she doesn't deliver some high level sexiness. For example, Joanna can entertain for hours on end and she's up there with the best when it comes to full on intimacy. Treat yourself to a night of passion, there's no better London lady to pamper you all night long. We guarantee that once you meet her you'll soon be wondering why you didn't book her sooner.