As one of the best escort agencies in London, we know that you want to meet top class companions. Therefore, all our escort girls in London have clean, modern apartments and are well-situated all over the capital. As these are usually close to tube stations, it also makes travelling to meet your companion straightforward and convenient. The escorts are professional and friendly and their apartments are comfortable and stylish. Furthermore, as it's your escort's home, she will make you feel instantly at ease.
Discover our top incall companions
Another great thing about going to meet top class companions is that her home will contain all of her professional tools. For example, she'll have things such as uniforms, toys and other accessorise that maybe she can't carry with her to outcall bookings. They're a great place to experience some of our naughtier escort services. Our more adventurous girls provide services such as striptease shows and massage services. And as some of our clients are unable to meet escorts at their home and sometimes booking a hotel room is not the best option for them either, this is ideal.
The majority of our escorts offer incalls and it's certainly the best way to meet top class companions. Our London incall escort services cover many areas of central London. Therefore,  no matter where you are, we have a top London lady not too far away. Whether you're in Westminster, Canary Wharf or Paddington, you can still have access to amazing escorts and their superior services.
Advantages of visiting high class escorts at home
One major advantage of visiting your escort at her apartment is that she feels more relaxed. As a result, she will be able to concentrate on giving you the very best service possible. As we only recommend the finest escorts in London you can be sure that all of our escorts will have the skills and expertise to put you at your ease. Furthermore, they each deliver their own special brand of hospitality. Whether you want to just chill out or you're seeking an energising encounter you'll find that by visiting your escort on her own 'territory' your meeting will get off to a great start.
Visiting an escort at her home is also the best option if you're looking for a completely discreet service. There's no need to worry about your neighbours seeing someone arriving at your door. And it saves having to book into a hotel and giving credit card details. Meet top class companions the easy way and leave your worries behind. You can arrive discreetly, pay for your services and then leave as inconspicuously as you arrived. Incall ladies are also a great idea if you plan to become a regular client. You'll find it so much easier to relax and have fun when you're in familiar surroundings. Of course, it might be nice, once in a while to take your companion to dinner or to a club. However, an in-call escort service can be just the thing when all you want to do is relax and be completely pampered.
Meet our best escorts this week
If you want to meet top class companions, Adelyn really is one of those genuinely nice ladies with a heart of gold. This is a sign of a girl that loves her job and her great reviews also prove it. Furthermore, Adelyn is not only a delightful escort, she's also very naughty, in the best possible way. She loves to please and knows what it takes fulfil the wildest fantasies and desires that come her way. Adelyn can be very open minded and any man would find it hard to resist her feminine charms. Check out her escort video to see her natural allure, delicious curves and beautiful full lips. Now you're starting to understand why she's in such high demand.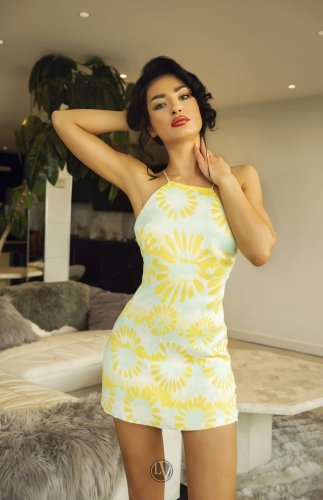 It's always pleasurable to spend time with Courtney. She's not only a natural beauty she's also so much fun. This deliciously intimate playmate loves to tease and please. In other words, she's sexy and very passionate and guarantees an intensely intimate experience. Take a look at her captivating video to see why she gets amazing reviews. She is very much as beautiful in real life as she appears in her professional photos, if not more. Furthermore, if you want to meet top class companions with a bit of extra spice, Courtney is super naughty. This call-girl will treat you to a saucy striptease as well as extras (if you so wish).