Yes, making an overnight booking just right takes planning, but it is not as daunting as clients might think. Spending the night with anyone is a long time if you don't know them. There will be a little self-consciousness even after you've talked about everything beforehand. However, did you know that there are different approaches to making an escort booking that lasts all night?
Booking the right lady
Some clients confirm an overnight straight-away, without much thought given to it. Whereas other clients are more tentative, preferring to book for a shorter duration first. This helps to assess the escort's suitability, making an overnight booking just right for their requirements. In fact, there is no right, or wrong way to book an overnight appointment. The most important thing is that everyone is enjoying themselves in a safe and harmonious environment.
When booking an overnight escort, it is best to keep an open mind. Don't expect too much, unless you want to feel constantly stressed out or unsatisfied. But be safe in the knowledge that our girls excels at providing an attentive and fun overnights, and will strive to make their client happy. They know instinctively how to live up to your expectations without the need for exact instructions. However, as with any social interaction, these ladies will always have personal boundaries that need to be respected. Therefore, for a client who wishes to maintain a harmonious atmosphere during his overnight booking, courtesy and consideration are key.
Tips for overnight bookings
What, then, are the tips to making an overnight booking just right? One of the most sensible tips is to book for a shorter date first to gauge her personality and your compatibility. It only takes an hour or two to find out if you'll be compatible, and it will save a lot of wasted time and money if your escort is not.
Another useful tip would be to mention that there is a possibility of extending the booking if you like her. If it's possible for her to put off other plans for that evening she will. However, most girls will only clear an evening for regular clients already known for booking overnight appointments. This way they know if a clients is serious about extending a shorter booking into a longer one. You must of course also let the escort know as soon as possible if you don't intend to extend.
Last but not least clients should not feel embarrassed to ask for better rates if they are book overnights on a regular basis. After all, most escorts do prefer to see only one client over the course of the evening and regular overnight bookings are good business. Making an overnight booking just right for everyone will always get the date started off on the right foot.
Recommended overnight girls
Once you meet Donna, you'll be sure to want to extend your time with her. That addictive personality and wicked sense of humour are just a few of the wonderful things she has going for her. In fact, she is the perfect choice for a cosy night in, where you can get to know her a little better. This busty London escort really knows how to pamper and please. Her soft smooth skin and silky blonde hair give her that radiant glow and she's super sexy and flirtatious too. Donna can keep any man entertained for hours on end, making an overnight booking just right. She is a joy to be with, and to look at, and her sweet nature will have you coming back for more.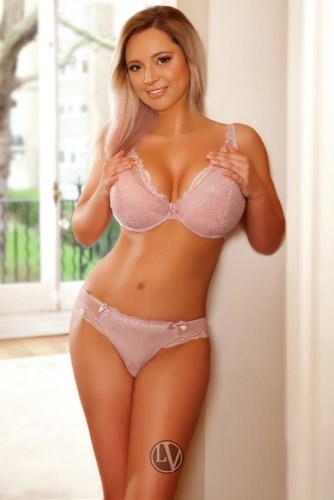 When it comes to making an overnight booking just right, we must introduce you to one of our top London escorts, Primrose. It's all about the passion with this one and she is a firm favourite for overnight appointments and romantic weekends away. Therefore, if you like to be pampered and treated like a king, she the perfect choice. Furthermore, when it comes to the art of seduction, not many can match her skills. Primrose will treat you to one of her sensational body to body massages. It's a guaranteed way to get you in the mood for an evening of pleasure. In other words, once you get a taste of of this delightful young lady, you'll soon wish you'd met her sooner!