Our ladies are energetic and keen to put a smile on your face whenever they see you. Their priority is always you, and of course we'd like you to keep our girls happy too. London Valentines escorts will never be in a dull mood and they are genuinely happy to see you. After all, they want you to enjoy yourself to the maximum and they are here to fulfil your every desire. We guarantee that, if you've been a bit gloomy, your dark cloud will soon be lifted and you'll soon forget about all your worries.In other words, if you're low and need somebody to cheer you up, our friendly girls will make you feel relaxed and a whole lot lighter, in no time at all.
Lets face it, we're here to make you happy
London escorts need very short notice to be ready for you. This means won't have to wait forever to put a smile on your face. We are conscious that waiting ages for your companion is not entirely fun. Therefore, we aim to have her with you within 30 minutes of your call. Our receptionists are also happy to answer any and all questions pertaining to our service and the girl you are booking. By this we mean things like attire, how you wish your companion to meet you and any specialities they do. For example, some escorts provide exotic massage services or fetish outfits and uniforms etc. Provided that your list doesn't go on forever, we will get you all the information we can. Whilst we appreciate that you may excited to see one of our ladies, there are limits to what we will talk to you about on the phone.
We are happy to offer a little information about our escorts, especially if you're planning a longer encounter. After all, wouldn't it be nice to find out what your companion likes to eat? What her favourite drink is and what sort of music she enjoys? Your date will be more rewarding if you've done a little research beforehand. And isn't it better to put a smile on your face as well as hers?Whilst we can't tell you everything about the girls we represent, we can assure you of a few things. Firstly, the beautiful lady you see on the website is always the same lady you meet in the flesh. Secondly, all of the ladies we represent are charming and friendly. Our high standards of beauty, intelligence and charm ensures that you always encounter the quality you expect.
Put a little fun back into your life
Here at London Valentines, we ensure that you will have the most pleasurable experience to put a smile on your face for days to come. After all, everybody needs happiness in their lives. You don't get these emotions with material things and if an intimate relationship is not on the horizon then our escorts are the perfect solution. Attachment provides us with the feeling of security and comfort and we get these feelings from being close to someone. But what if you haven't got that? Close contact is extremely important after all. You cannot really get that same feeling from your friends. Therefore, that feminine touch and care that our ladies provide will definitely fill the void. Furthermore, our ladies are good listeners too and are not just there purely for the financial side of things. They also relish in the fact that their clients enjoy their company and that's where they get their job satisfaction from.
As a caring and considerate agency, we want our clients to feel relaxed and happy. And these days not everyone has a fortune to spend, but our clients still want to meet up with stunning ladies. Therefore, the best solution for some is is to book our reasonably priced escorts. For example, we have many beautiful ladies and at a very good price. This might seems almost too good be true, but we can assure you that the service and ladies are all top class. With such a fantastic portfolio of ladies in all price ranges, every budget is catered for. So, whether it be our expensive selection or our cheaper girls, in just one call we can certainly help to put a smile on your face.
Ladies to make you smile
You really do get to have it all with London Valentines. One day a blonde and the next a brunette; tall, petite, young and mature. We cover every kind of category you could need and every part of central London too. From escorts near Sloane Square in Belgravia, to Westminster, Mayfair and the West End. Our clients say it truly is a pleasure discovering all of the new ladies that we have added to the website.
Helen will always make you happy
Helen is a natural beauty with a perfect petite figure and lots of energy. Therefore, if you're the kind of man that loves a playful busty blonde, Helen is guaranteed to put a smile on your face. She certainly knows how to please and tease all day long. Furthermore, Helen has more going for her than just her amazing figure and good looks. This bubbly blonde also loves to meet new people and knows exactly how to make everyone feel welcome in her company. Ain other words. she is very affectionate, always eager to please and a great choice if you like a little adventure.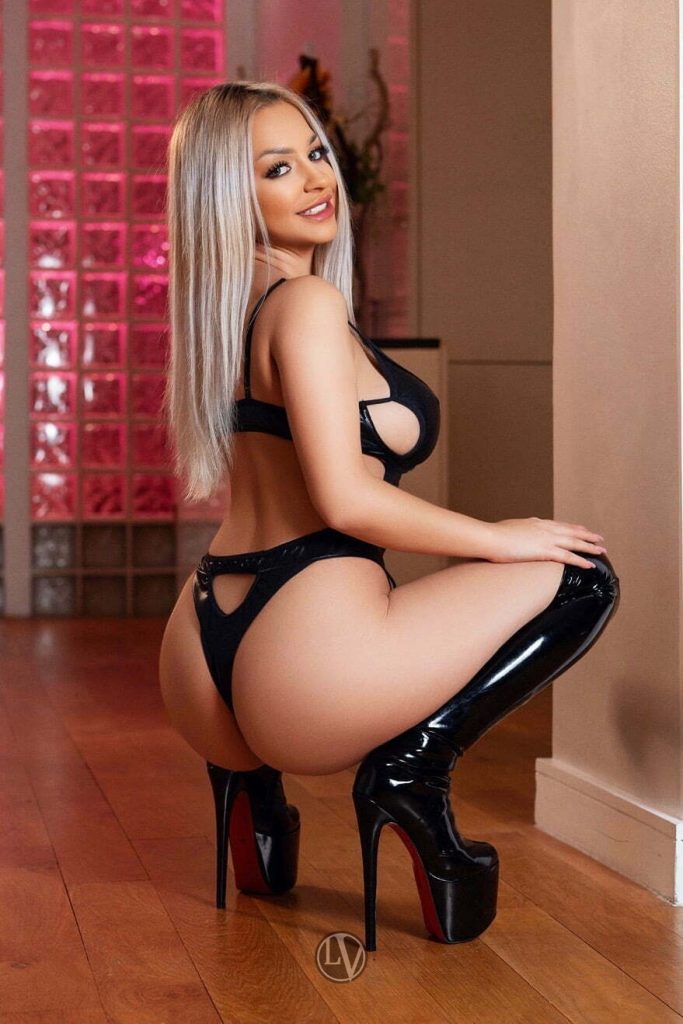 Have fun with Fergie
Fergie is one of our most requested new ladies, and for good reason. She is extremely friendly with a beautiful face and an extremely sexy body to match. Furthermore, if you want passion and fun, then Fergie is the ideal choice to put a smile on your face. Her love for life ensures that time spent with her is always full of excitement. In addition to this she will please and pamper and totally throw herself into making sure you're the centre of her attention. This is not only a beautiful escorts, she's also full of confidence and loves to make her clients happy.