Here at London Valentine's we don't just offer our clients beautiful and elite women. We offer them an experience they will never forget, anytime they need it. Thats right – twenty-four hours a day, seven days a week. So, no matter what time of day it is, our girls are available for you with an unforgettable service. This means that even those with gruelling and highly demanding jobs can still enjoy the company of a stunning woman when it suits them. We are always here for your convenience. We make our escorts service in London as convenient as possible.
At the end of each long week you could treat yourself to a smart, intelligent, professional and fun companion to spend time with. In the traditional manner, most men will book an elite escort for when they've finished work for the day. They may need some company to help them relax or unwind but this isn't always at a time that's considered polite.
Meet Audrey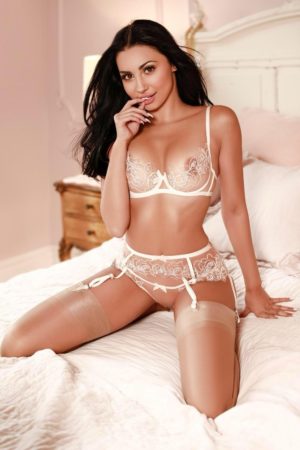 Her slim figure and naturally stunning looks make her the perfect choice for anyone looking for some extra special, fun and flirty company. She is polite, has a lovely gentle nature, a gorgeous body and she always aims to please.
Flexible Timing
Not everyone works a regular nine to five job, with every weekend empty to fill with what they want. The harsh reality is that in order to succeed in a busy city you have to put the hours in. Likewise, with our London escorts, they know that in order to work for a quality and reputable agency such as ours, they need to be good. We require them to be flexible and able to provide companionship at different hours of the day. Therefore, no matter what time you call, we are always here for your convenience, with beautiful companions at the ready.
A lot of our clients have found it gives them an extra spring in their step and an extra wide smile on their face. Couple this with an extra refreshed feeling and there really is no better alarm clock. Imagine the sheer pleasure you'll receive when being woken by one of our top London escorts. You'll be ready to take on the day no matter what it throws at you.
Here at London Valentine's, we want you to know we're always here for your convenience. Yes, we are available whenever you need us. In fact, we even recommend to some clients booking escorts for those so called inconvenient times. Having a woman sent to you in the early hours of the morning before a day at work has been known to work wonders for some of our clients. They spend a couple of hours together, have fun, take a shower together and then depart.