It's interesting to note that most of our top escorts are also older and on the busty side. The busty elite here at London Valentines escorts are some of our most requested ladies. This is down to their amazing bodies and the ability these girls have when it comes to providing a professional service. It seems that as they've matured, so have their bodies. These amazing girls still retain their sexy curves but they've also developed a larger and fuller bust. So, if you're a lover of big boobs, you'll find that the busty elite girls we have are an excellent choice.
Why our busty girls are a firm favourite
For those times when you need someone sexy to accompany you to a formal business dinner, why not choose one of our more mature escorts? You know the type of dinner… Everyone will be bringing their wives and you don't want to be the only guy there alone. However, at the same time you don't really want to turn up with a girl half your age, no matter how gorgeous she is. If you find yourself in this situation, then the busty elite escorts on the more mature side could be the perfect solution. For example, you still get to enjoy the company of an eye-popping busty babe but you also get the professionalism that come with it.
The busty elite on the older side are also excellent conversationalists. After all, their life experience allows them to understand the environment they are in a lot better. These fine females are smart and sexy and are able to maintain a deep conversation about almost any topic. Furthermore, they have their own opinions too and this is what makes them more attractive to men.
Older Elite Escorts with a lot up front
Our more mature escorts are comfortable in her own skin. But this doesn't mean they are boring and don't know what fun means. The busty elite girls we have are just as playful and childish inside as younger ladies. They love to chat, and they have a great time with their clients. They simply have more experience in life. As a result, it allows the men they meet to learn so many new things from them. They will help you to understand your feelings at a deeper level. You don't need to play mind games and you don't need to make her guess. Simply say what's on your mind to her and you won't feel pressured.
Meet busty blonde Emmy
Stunning Emmy illustrates this point perfectly and has proved extremely popular with clients of all ages. Receiving perfect 5 star reviews from several clients, she's at the top of the list when it comes to the busty elite. All her reviewers agreed that she's not only stunningly beautiful, but that she's friendly, witty and great fun to be with. In her late twenties, her 36DD assets are entirely home grown, so if you're particularly fond of large natural breasts as opposed to the surgically enhanced version, you're going to be delighted to spend some time in the company of this boobylicious babe.
Don't be surprised if you end up extending your time with Emmy. This sexy playmate knows how to have some seriously good fun! Nothing makes her happier than dressing up in her collection of naughty lingerie and outfits. She's got something for every taste and with those gorgeous curves and that killer smile she's hard to resist. Emmy is full of confidence and knows exactly how to turn an evening into a night of passion and pure enjoyment. In other words, she is completely addictive and once you meet her she's very hard to resist.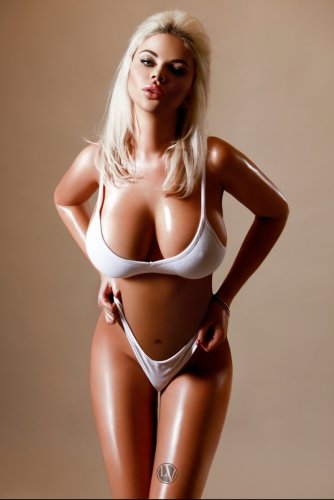 Elite call-girl Christine is always a safe bet
Lovely Christina is also an excellent choice for the busty elite. For guys looking for more mature escorts with experience she's a must see. In her late twenties, this lovely lady certainly has experience of life and she's definitely got a curvaceous and womanly body. Size 10 and 34DD breasts, you can see that Christina has the kind of curves men love to caress and she's also got a beautiful face too. Just imagine spending some time with her over a candlelit dinner before retiring to your place or hers for an after dinner nightcap – what a lovely thought.
Christina is an adorable companion with a sensational body and an incredibly sweet personality. Her natural beauty always shines through, making her perfect for any kind of date you had in mind. Christina eager to please, extremely adventurous and is truly alluring and vivacious in every sense of the word. This ultra sexy call-girl has stunning looks and a toned body that make her an irresistible companion for any man. Christina makes for an amazing escort experience. She has a good attitude, the right skills and of course she is stunning too.